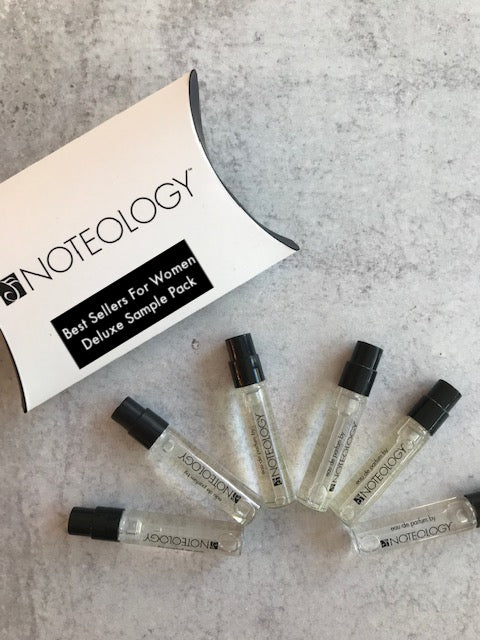 Best Sellers for Women Deluxe Sample Pack
Our 6 best-selling fragrances for Women in one sample pack! Explore the best with complimentary shipping!
The 2 ml sample size will get you 15-20 wearings per fragrance and is a spray vial, not those pesky dabber wands. We love these for on-the-go spritzing too!  
White Pepper Mandarin, our #1 best seller, this fresh, aquatic citrus fragrance is super versatile and easy to wear with clean notes that layer into a white cedarwood base. 
Pink Peony features notes of pink peony, rose, peach, orange & jasmine. A bright, happy & romantic fragrance perfect for uplifting your spirits.
Coconut Sugar is a playful, fruity, fun-loving & sparkling scent with notes of coconut milk, red berries, vanilla bean & freesia. Delightful!
Honey Blossom features citrus, bergamot, wildflower honey, pear, rose & sandalwood in a soothing blend perfect for summer. A Primetime Emmy Gift Bag pick!
Orchid Noir is a captivating oriental scent featuring notes of patchouli, cocoa, vanilla, cassia, vetiver, and iris flower.
Vanilla Vetiver is a goumand and feminine fragrance that is kissed with silky vanilla sweetness dotted with leather, smoke and woody accents in the finish.
Complimentary shipping is included. 
---
Share this Product
---
More from this collection